Statement on the passing of George He
Featured media
Image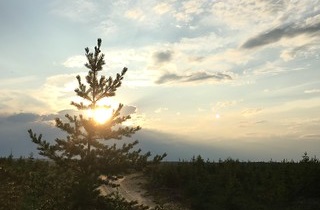 It is with profound grief that the Cree Board of Health and Social Services of James Bay acknowledges the passing of Mr. George He. Our leadership and staff extend our deep condolences to Mr. He's family.
Mr. He of Brossard, Québec was a nurse with the Bayshore agency who was a valued member of clinical teams in Waskaganish, Eastmain, Wemindji and Nemaska.
On November 20, 2019, George He was travelling north to a work assignment in the Cree Nation of Nemaska. His vehicle became stranded on a remote logging road in an area with no cell service. Mr. He was driving on Route 1000, a secondary road, rather than Route 1055, which would be the normal itinerary between Lebel-Quévillon and Matagami.
The Cree Board of Health and Social Services of James Bay wish to acknowledge the diligent efforts of the search teams led by Sureté du Québec (SQ), with support from Association Québécoise des bénévoles en recherché et sauvetage (AQBRS), the Canadian Forces, Sécurité publique Québec, and experienced hunters from the Cree Nation of Waswanipi. They worked tirelessly to locate George He. We wish to thank Jason Coonishish, the Coordinator of Prehospital Services and Emergency Measures, who coordinated with regional civil security partners and personally assisted in the ground search alongside his fellow Cree hunters.
The CBHSSJB also extend our thanks to the friends and colleagues of George He in the CBHSSJB and Bayshore agency, who reported his absence and provided valuable information to the SQ. Their sense of caring and connection and timely action enabled the search to get underway quickly.
George He, like many who embrace the challenge of working in the north, was a dedicated professional with an adventurous spirit. We will remember George He's dedicated service to the wellbeing of our community, and we will work with our partners to improve safety and security of travellers in all seasons.
In particular, the CBHSSJB will immediately review its travel policies and recommendations for employees and contractors travelling for our organization. We will recommend that drivers avoid secondary roads and always travel with a full emergency roadside survival kit. We will continue to advocate for improved mobile network coverage and access to 911 in remote areas, and we will recommend that secondary roads be removed from GPS route options.
We dedicate these actions to Mr. He's memory, in the hope of preventing future tragedies of this nature.