December 28 Update: Two Recovered Cases of COVID-19
Summary
There are currently no active cases of Covid-19 in Eeyou Istchee (Region 18).
Featured media
Image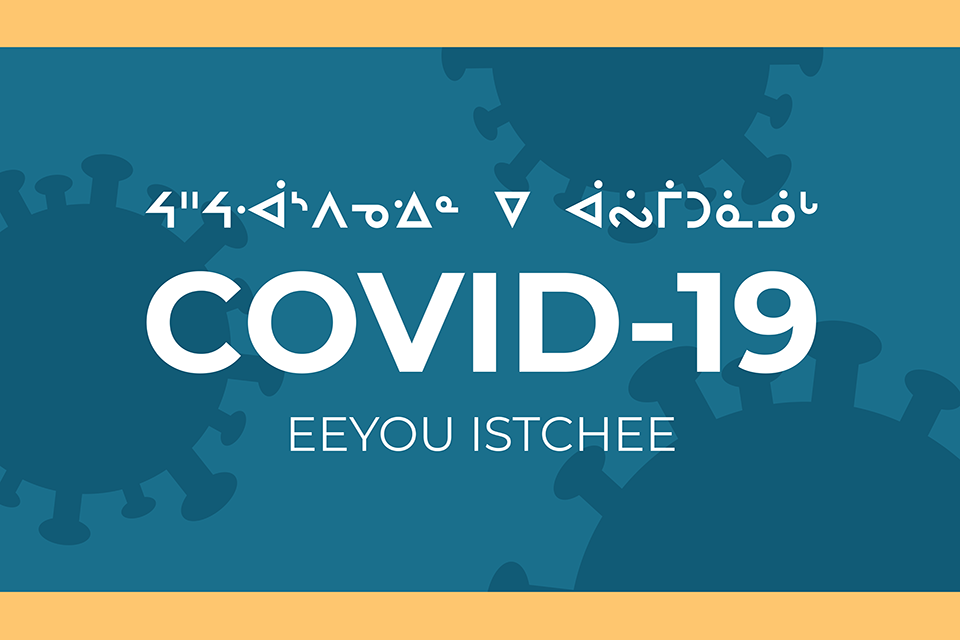 Content
December 28, 2020
The Public Health Department has confirmed that two people from Eeyou Istchee with COVID-19 have now recovered from active infection.
In one case, the person contracted the virus while receiving medical care for an unrelated condition in a Montreal hospital, and presented minor symptoms of COVID-19. In the other case, the person was an escort of a patient receiving medical care in Montreal.
With their recovery, there are no more active cases for Eeyou Istchee (Region 18).
Wiichihiituwin continues to take precautions to protect clients who require essential medical care in the south, as well as the escorts who support them during their trip.
Wiichihiituwin is striving to respond to the needs of clients and escorts during this difficult time.
The health board encourages patients and escorts to ask for help, either by calling the COVID-19 Info-Line at     1-866-855-2811 , or the Wiichihiiwaauwin Help-Line at 1-833-632-HELP.
The Cree Health Board is working to prepare a vaccination campaign for Eeyou Istchee that is expected to get underway after the holiday season, in the early New Year. The Health Board will receive and distribute the Moderna COVID-19 vaccine during this campaign. Vaccination is our best protection against spreading COVID-19, and getting very sick from an infection.
With a vaccination campaign at our doorstep, it's important to continue practising public health recommendations: Avoid non-essential travel, limit gatherings, practice physical distancing with people not in your household, wear a mask when needed, and wash your hands frequently.
The Public Health Department continues to do screening tests for clients and escorts at Wiichihiituwin in Montreal, as well as screening certain groups in Eeyou Istchee, including  healthcare workers, patients and students returning home, and people who work with Elders.
Visit our COVID-19 FAQs page to learn more: https://www.creehealth.org/covid-vaccine-faq
Questions?
Eeyou Istchee COVID-19 Info-line - Call or inbox @creehealth on Facebook. Leave your name & number.