Description
ᐄᔨᔨᐅᔨᒧᐎᓐ | IIYIYIUYIMUWIN
DEC 22
Update presented by CHB Vice-Chair Christine Petawabano
Summary
Highlights from the Cree leadership meeting about the COVID-19 situation in Eeyou Istchee
Featured media
Image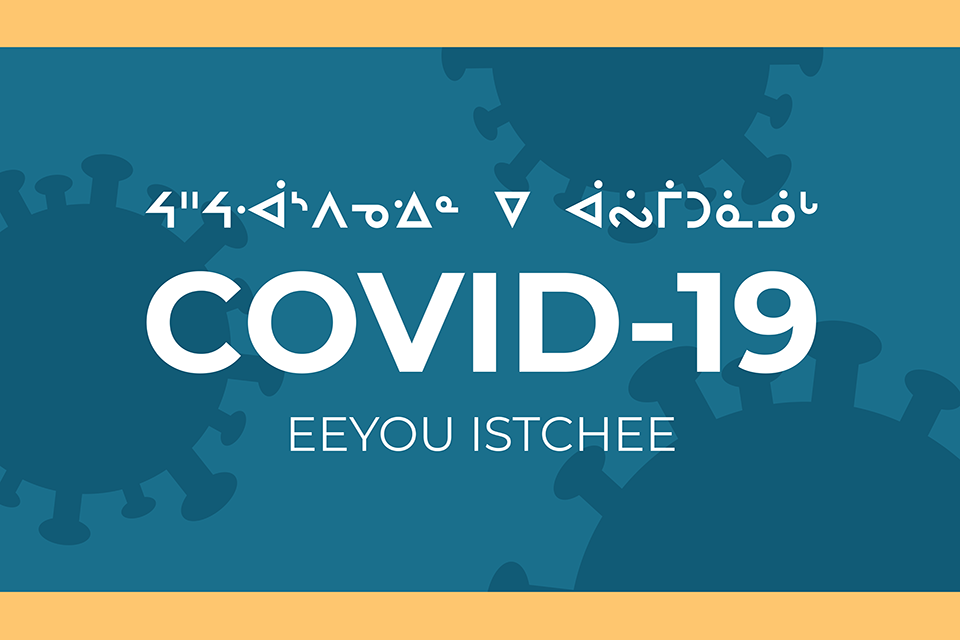 Content
The situation with Covid cases in Quebec and Canada remains very concerning. There is a steady increase in the number of cases in our neighbouring regions. Daily cases are high in Region 2 – Saguenay-Lac-St-Jean. Hospitalizations are on the rise. Cases are going up in Montreal, and in several areas of Ontario.
These rising case loads are straining our health care system. They require tremendous resources, including care from front-line workers, and everyone involved in contact tracing investigations.
Given this situation, as we head into the holiday season, Cree leadership and the Cree Health Board strongly advise people to avoid all non-essential travel outside Eeyou Istchee at this time.
Residents are asked to restrict movements and gatherings to be extra cautious during these very difficult times. The safest place in Quebec remains in the Cree communities of Eeyou Istchee.
Two new cases
Since last week, we have had 2 new cases of COVID-19 reported for Eeyou Istchee. These cases involve a Wiichihiituwin client who was receiving treatment in a Montreal hospital, and an escort. Both are now in the care of public health staff.
Contact tracing has been done in relation to these cases, and all people involved are now in isolation and are being tested. We keep them and their families in our thoughts.
Wiichihiituwin continues to take all necessary precautions to protect clients who require essential medical care in the south, and their escorts.
The health board recognizes how challenging it has been for people to have to travel to risk zones to receive essential medical care.
Wiichihiituwin is striving to respond to the needs of clients and escorts during this difficult time.
The Cree Health Board would like to remind patients and escorts that they can ask for help and support.
Call the COVID-19 Info-Line at 1-866-855-2811 with your questions.
Call the Wiichihiiwaauwin Help-Line at  1-833-632-HELP if you feel anxious or worried and want to talk with someone.
No matter where you are, continue to follow Public Health recommendations:
wear a mask
wash your hands frequently
maintain appropriate physical distance (2 metres, or 6 feet) from people who aren't members of your household.
Vaccine Update
Our Cree leadership and public health department are closely monitoring the introduction of COVID-19 vaccines. Quebec and other provinces have started to vaccinate people in the south. We are encouraged by these developments. This vaccination campaign is bringing hope to so many people.
In Eeyou Istchee, the Cree Board of Health and Social Services is working very hard to ensure that the personnel, equipment, procedures and facilities are in place so that when it is time, the safe and voluntary vaccination can begin.
The health board is working with all its community partners and Cree entities to plan for this eventual time.
Until then, the health board encourages everyone to be careful about the information they seek out about these vaccines. Use reliable sources of information to learn more about them.
We ask you to consult the new Frequently Asked Questions section on the Cree Health website, where many common questions about vaccines are answered.
Travel Update: Map of Areas of Risk
Travel to and from areas of risk is not advised at this time. Travellers coming from these regions will be subject to local Mandatory 14-day Isolation Laws. 
Anywhere outside Quebec – with some exceptions in Northern Ontario.
Within Quebec:
-Region 1 – Lower St-Lawrence
-Region 2 – Saguenay-Lac-St-Jean
-Region 3 – Quebec Capital
-Region 4 – Mauricie and Centre du Québec
-Region 5 – Estrie
-Region 6 – Montreal
-Region 7 – Outaouais(Gatineau)
-Region 9 – North Shore
-Region 10 - Radisson
-Region 11 – Gaspé and Magdalen Islands
-Region 12 – Chaudière-Appalaches
-Region 13 – Laval
-Region 14 – Lanaudière
-Region 15 – Laurentians
-Region 16 – Montérégie
-Any Hydro-Quebec site;
-Mining sites, with some exceptions
-Any forestry camp
In Chibougamau, new cases of COVID-19 have been reported, causing concern. As a result, Chibougamau's risk assessment is changing.
As of December 22, Chibougamau is considered an area of risk if you are travelling to and from Whapmagoostui, Chisasibi, Wemindji, Eastmain and Waskaganish.
This means that if you are travelling between those communities and Chibougamau, you'll have to self-isolate for 14 days when you return home.
Chibougamau however is not considered an area of risk for the communities of Mistissini, Ouje-Bougoumou, Waswanipi and Nemaska.
That means people can travel for essential services, including to the grocery store, pharmacy, to do banking and garage work, and receive medical care without the Mandatory 14 days of self-isolation. 
Travel Update: Map of Areas of Reduced Risk 
This means travellers will NOT be subject to local Mandatory 14 Day Isolation Laws. They include:
Region 8 – Abitibi-Témiscamingue
Region 10 – Nord du Quebec (except for Radisson)
Region 17 – Nunavik
Region 18 – Eeyou Istchee
In Ontario: Sudbury, Porcupine and Timiskaming, and the municipalities of Timmins, Moosonee and North Bay
The following work sites are also considered to have reduced risk:
Windfall Mining Exploration Site of Osisko Mining Inc
Renard Mine Site of Stornoway
Éléonore Mine Site of Newmont
A reminder that you can call the Health Board's Info-Line if you have questions about planning your travel. Please call the Info-Line at 1-866-855-2811.
People who do travel are asked to do the following:
• Limit their travel to what is necessary, and limit number of travelers when possible.
• Verify the rules and restrictions applicable at their destination.
• Be extra careful at your destination.
• Don't mislead people who oversee local checkpoints, whether they are public safety officers or someone else.
Deconfinement Phase
Communities in Eeyou Istchee are in Phase 3. This means:
Outdoor gatherings of 75 (or 10 households) are allowed
And Indoor gatherings of 25 (or 3 households) are allowed.
We know our communities have organized many activities and contests to celebrate the spirit of the holiday season, while respecting restrictions forced on us by the pandemic.
This is Cree resilience in action. We are in this together, and we will come out of it stronger, as a nation.