Description
ᐄᔨᔨᐅᔨᒧᐎᓐ | IIYIYIUYIMUWIN
DEC 17
Update presented by CHB Vice-Chair Christine Petawabano
Summary
The Cree Nation government is advising that communities in Eeyou Istchee move to Phase 3 of its Deconfinement Plan, effective today
Featured media
Image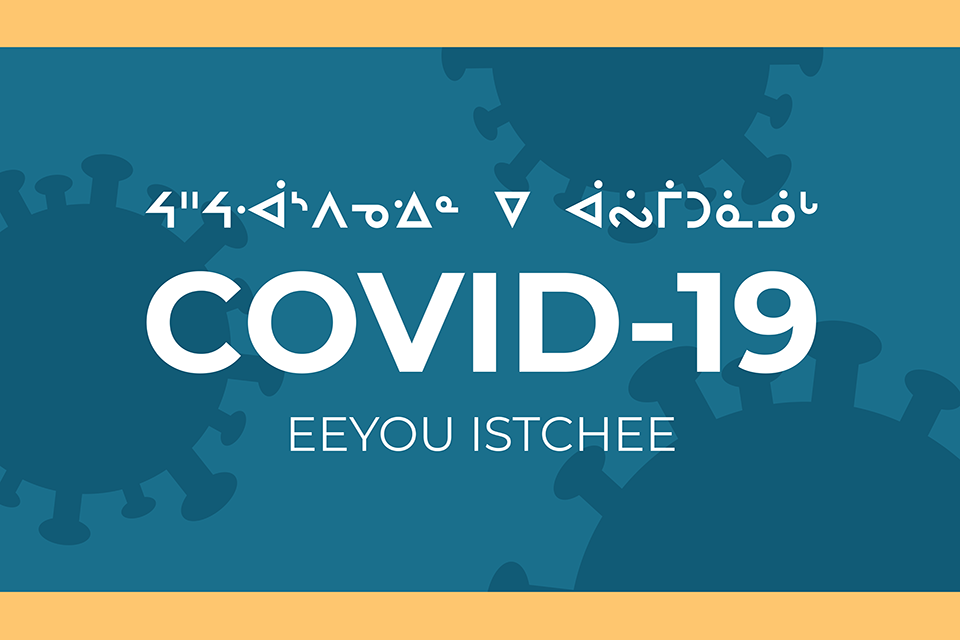 Content
The situation with Covid cases in Quebec and Canada remains very concerning. There is a steady increase in the number of cases in our neighbouring regions. In Region 2 – Saguenay-Lac-St-Jean, the daily number of cases is high, and the number of hospitalizations is on the rise. Cases are going up in Northern Ontario. 
Earlier this week, the Quebec government announced new restrictions to bring down the growing number of COVID-19 cases in the province. 
This so-called "Holiday Pause" includes measures to reduce travelling, gatherings, school, work, and retail activities. 
Moving to Phase 3 of Deconfinement
This means reducing the size of indoor and outdoor gatherings within Eeyou Istchee.
In Phase 3, outdoor gatherings are limited to 75 people, or 10 households.
Indoor gatherings are limited to 25 people, or 3 households. 
By moving to Phase 3, communities can compensate for the risks associated with travel from neighbouring areas.
It will also help compensate for the movement of people in and out of our communities during the holidays, whether it be students returning home, or other people who decide to travel. 
With a return to Phase 3, it's important that everyone continue to respect measures such as physical distancing, wearing a mask when needed, and washing your hands. 
People are reminded that they should be very careful when travelling outside of Eeyou Istchee.  Every effort to reduce our contact with areas of risk contributes to our collective efforts to keep the virus out of Eeyou Istchee. 
If you are still planning to shop, we encourage you to look at alternatives, such as buying local, online shopping if the option is available, or asking one person to shop for others.
Even in Phase 3 of Deconfinement, the Cree Nation has much more freedom than people in the rest of the province. We are grateful for everyone's efforts to respect local isolation laws and precautionary measures. 
People who do travel are advised that different jurisdictions may change their rules quickly as the situation evolves. Your travel plans may be affected.
There is currently no restriction to travel between Ontario and Quebec, but that may change.
The government of Quebec has instructed its police force to restrict travel in red zones, and turn people away if they are travelling for non-essential reasons.
In Quebec, you can still travel from an orange zone to an orange zone. 
If you do travel, be honest with the people at your community checkpoints. 
Review of Map of Areas of Risk
If you travel to and from the following regions, you will be subject  to the mandatory self-isolation law when you return.
The regions that are areas of risk are: 
Anywhere outside Quebec
Within Quebec:
o Region 1 – Lower St-Lawrence 
o Region 2 – Saguenay-Lac-St-Jean
o Region 3 – Quebec Capital
o Region 4 – Mauricie and Centre du Québec
o Region 5 – Estrie
o Region 6 – Montreal
o Region 7 – Outaouais (Gatineau)
o Region 9 – North Shore
o Region 11 – Gaspé and Magdalen Islands
o Region 12 – Chaudière-Appalaches
o Region 13 – Laval
o Region 14 – Lanaudière
o Region 15 – Laurentians
o Region 16 – Montérégie
Within Eeyou Istchee:
• any Hydro-Quebec site;
Areas of Reduced Risk - Travellers will NOT be subject to local Mandatory 14-Day Isolation Laws:
Ontario: Sudbury, Porcupine,Timiskaming, Timmins, Moosonee and North Bay.
 
Within Quebec:
o Region 8 – Abitibi-Témiscamingue
o Region 10 – Nord du Quebec
o Region 17 - Nunavik
o Region 18 – Cree Communities of Eeyou Istchee
 
• Windfall Mining Exploration Site of Osisko Mining Inc;
• Renard Mine Site of Stornoway;
• Éléonore Mine Site of Newmont
In Region 10, Chibougamau and Chapais have been reclassified from a red zone to an orange zone. People travelling to these towns will no longer have to self-isolate when they return to their communities. 
COVID-19 Vaccine Update
This week, Quebec started to vaccinate people in the south with the new Pfizer-BioNTech COVID-19 vaccine. 
Several more vaccines are expected to be available in Canada in coming months.
We don't yet know what vaccine will be first available in Eeyou Istchee, or when it will be distributed. 
As soon as a vaccine does becomes available in our region, the Cree Health Board will be ready.
The Cree Health Board is working very hard to ensure that staff, equipment, and procedures are in place.
The COVID-19 vaccine is safe, and will be voluntary to receive.
People have many questions about the COVID-19 vaccines, and the next steps.
We invite you to check the Cree Health Board's new "Frequently Asked Questions" webpage, to learn more about the COVID-19 vaccine.